Whatever the Weather - Book
It's quite a challenge. Transforming the invitation for meaningful encounter into a tangible and shareable shape. Together with designer Sybren Kuiper en book binder Wytze Fopma, I spent a solid two years finding out how to do that. Our search has resulted in a remarkable book, of which one official dummy has been made to date.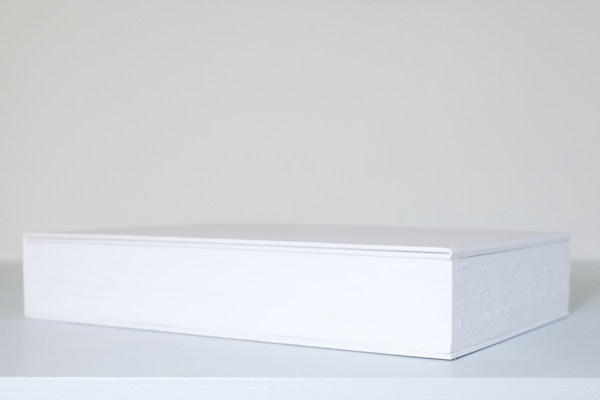 Whatever the Weather book, closed
Eye level
To get to this point, we first had to establish the importance of meeting one person at time. At eye level and in life size, in order for the encounter to be free of any hierarchy. So that you don't have to see up to somebody, or down onto him or her. So that you can see each other in the eyes, with full focus.

The form we conconted, is a book in which you can let every individual portrait rest on a standing contruction made of the front cover of the book. You can view each portrait one by one, and spend as much time with one person as you want.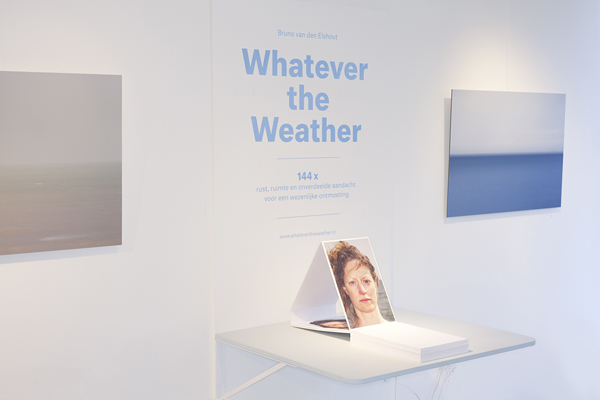 Whatever the Weather, open
Book as exhibition
Thanks to its special design, the book is at the same time the ideal way of exhibition the project altogether. As I did in October and November 2020 in my shared studio 'Kunstzaal de Bron'. During the exibition, you could view the first copy of the book, while horizon prints from NEW HORIZONS were shown on the walls of the gallery. It was a wonderful experience to see the book and portraits receive so much love and attention, and to see the invitation for meaningful encounters bear fruit.

e kon daar toen het eerste exemplaar van het boek bekijken, terwijl afdrukken van NEW HORIZONS aan de muur bijdroegen aan een sfeer van rust en ruimte. Het was een dierbare ervaring het boek en de portretten zoveel en zulke mooie aandacht te zien krijgen, en de uitnodiging tot wezenlijke ontmoeting zijn/haar werk te zien doen: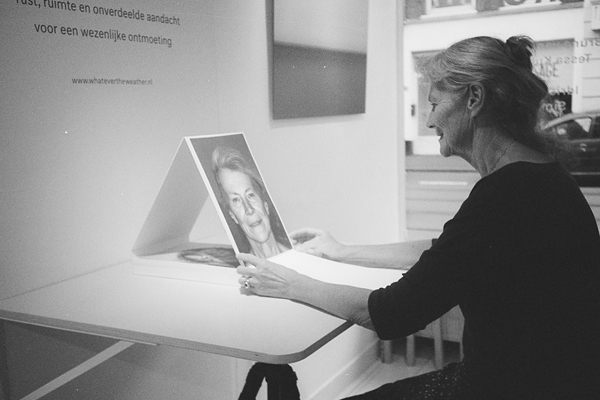 Whatever the Weather, being viewed
Making the book come true
Creating this book is a valuable and costly experience. The desired print run of 432 copies requires € 50,000 of financing. This investment is spent on image processing (covered and paid for), lithography (covered and paid for), design (coevered and paid for), manufacturing of the prototypes (covered and paid for) as well as the purchase of paper (covered and paid for).

In the current phase of the project, your contribution helps finance the print run at ZwaanLenoir (€ 10.000) and the manual binding of the 432 books by FopmaWier € 20.000). You can at all times view the actual coverage via the page where you can also pre-order the book.

If you would like to contribute to the printing, please do! The final price of the book will be € 240. Thhrough this website, you can order the book at the pre-order price of € 156,96 (respresenting € 144 + 9% VAT). It is also possible to make an even bigger contribution. If that\s what you feel like, please send me an e-mail via info(a)photologix(.)nl?

Sebastiaan Hanekroot in Apeldoorn (left) en Sipke Visser in London (right)
Why is this meaningful and valuable
There's a lot of stress and pressure in modern life. Little time seems to remain available to really take the time to meet somebody. And to confront yourself, the other and infinity and feel like you can offer your full presence. \"I am here\".

A clear and bright invitation can be of help. Thanks to its size, weght and design - the book makes a strong case for slowing down. Seeing and feeling beyond the speed of everyday life, prejudice and all that stands in the way of being open in company. Moving beyond judgment and sterotypes. To then experience the promise of a meaningful counter, synchronising with the meaning and existence of this work. I already wrote about it in a blog post.
Help the book realise itself by ordering your copy.
Technical specifications
Print run: 432 copies, numbered 1 t/m 432
Size: 145 pageds, printed single-sided
Page format: 24.2 x 35 x 6.7cm
Paper: Lessebo Design Smooth 300gr/m2
Binding: By hand, hard cover, pages glued individually
Weight: 4,000gr


Project partners
Image processing: Sipke Visser, Frisian.co.uk
Lithography: Sebastiaan Hanekroot, Colour & Books
Design: Sybren Kuiper, SYB Ontwerp
Paper: Guido Vermeer, IGEPA Nederland BV
Print: Stefano van der Knaap, ZwaanLenoir
Binding and finishing Wytze Fopma, Fopma Wier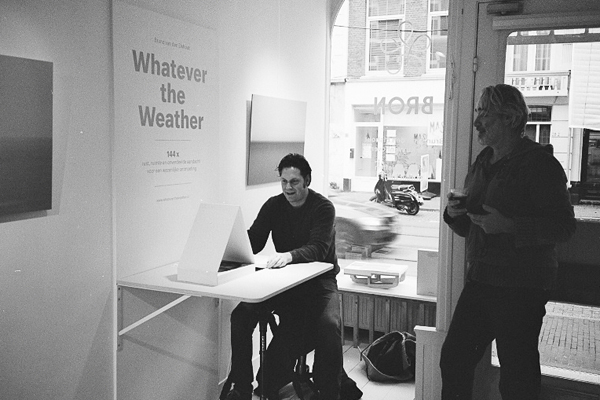 Wytze Fopma (left) en Sybren Kuiper (right) in Kunstzaal de Bron
---
Order your copy
Stay tuned