About Whatever the Weather
Meaningful Encounters. That's been my theme for 2018, and it will be for years to come. Meetings that are free of hurry and hassle, surpassing limitations in time and space. Aiming to direct all of our attention to outselves, each other and our meeting. Finding out what this meeting allows into existence that would otherwise not be likely to happen.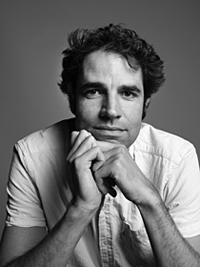 I foresee that this skill of opening up to meaningful encounters will be a vital one in the time we live in. By reclaiming this ability, I believe this will help me contribute to more warmth and vitality. For myself and my near surroundings and for society at large. I feel like this is what is up to me to work on in 2018, and that - by accepting this mission, that I will have access to all resources required for this project.


Prelude
Prior to the Whatever the Weather, I spent an entire year interviewing over 2700 young Europeans about their daily lives, while travelling all member states of the European Union. I am happy to contribute this experience to Whatever the Weather.

In 2012, I investigated the theme of Space and Tranquillity through my project NEW HORIZONS, which had me photograph the North Sea horizon for an entire year, at every full hour of that year. I wish to make this space and tranquillity available within the scope of the 144 encounters that will together make up Whatever the Weather.

The idea for Whatever the Weather stems from my wish to be a TV-host for the interview program Zomergasten in 2020, as described in this blog post from 2017 (translation: Google Translate). This wish told me that I wanted to experience and research the art of meeting and brought me to the theme of Genuine Encounter.


Since Whatever the Weather
Ever since the birth of Whatever the Weather, I have seen Genuine Encounter not just as a project, but also as timeless savoir-vivre. And while all 144 encounters have been completed, the work continues. In the shape of a book and as an exhibition. But also in future gatherings that I organise and host. In various contexts and settings. You can read more about those on the page Best when shared.

I still walk on the beach on Mondays and you are most welcome to join. We leave at 9 from my place in The Hague. You can find more details on the website Monday My Day.

If you wish to stay informed about exhibition, book and meetings, please consider signing up for my newsletter Sharing Adventures.


More about myself
Should you like to read more about myself and other previous projects, please visit my home page www.photologix.nl. You can also find and follow me on LinkedIn and Facebook.


---
View portraits
Sharing Adventures
About the book